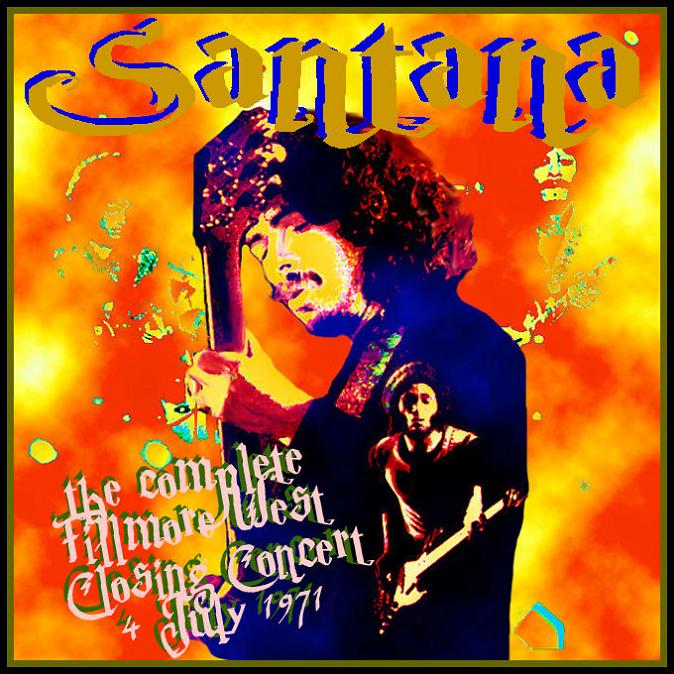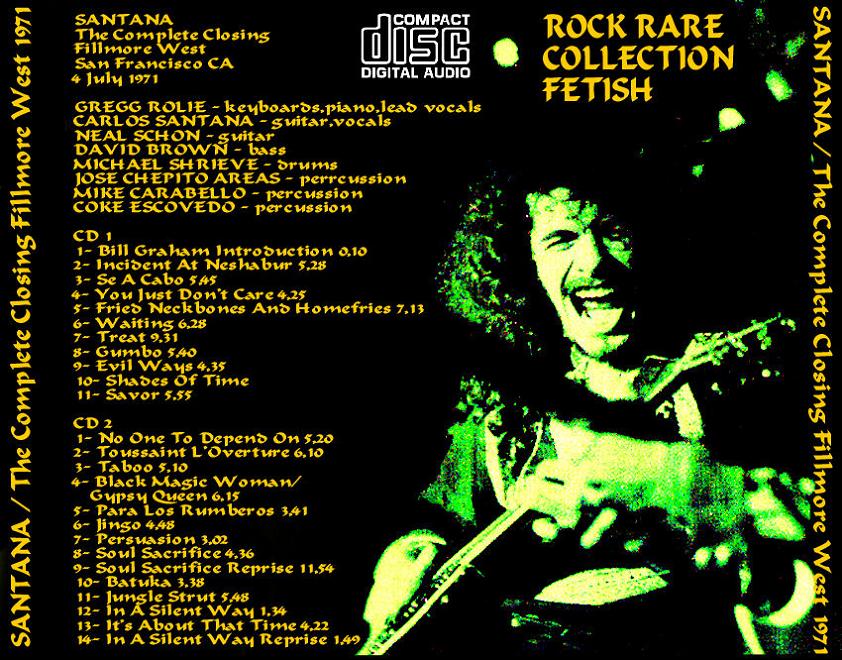 (Audience/FM FLAC)
Fillmore West closing week
Source/lineage
"Unknown low gen source"
"Mac Pro Tools>CDR"
Carlos Santana: guitar
Greg Rolie: organ
David Brown: bass
Michael Shrieve: drums
Jose Chepito Areas: percussion
Mike Carabello: percussion
Thomas "Coke" Escovedo: percussion
Michael Bloomfield: guitar
John Cipollina: guitar
Vince Guaraldi: electric piano
Jack Cassady: bass
Bernard Purdie: drums
George Marsh: drums
Tower of Power Horn Section
Van Morrison: vocals, sax
Linda Tillery: vocals
Lydia Pense: vocals
Disc 1 (Santana):
01 - Bill Graham intro>Incident At Neshabur
02 - Conquistador Rides Again (edit)
03 - You Just Don't Care (edit)
04 - Fried Neckbones (edit)
05 - Waiting (edit)
06 - Treat
07 - Gumbo (edit)
08 - Evil Ways (edit)
09 - Shades of Time>Savor
10 - Jingo (edit)
11 - Persuasion
Disc 2 (Santana):
01 - Soul Sacrifice
02 - Drums
03 - Soul Sacrifice (edit)
04 - Batuka (edit)
05 - Jungle Strut (edit)
06 - In A Silent Way>It's About That Time
Disc 3 (Final Jams):
01 - Bill Graham>radio dj>tuning
02 - radio dj (talk)
03 - Rock Me Baby>My Baby
04 - tuning & crowd noise
05 - I Found Love>
06 - Jam #5
07 - stage noise
08 - Roll Over Beethoven>Whole Lotta Shakin'>Johnny b - Goode
09 - My Angel Baby>Blue Moon>My Angel Baby
10 - Final Jam (part 1)
11 - FInal Jam (part 2)
Here's an okay recording of Santana and good recording of the Final Night Jams. Read on to learn why the Santana portion is just "okay." This has been the most challenging upload I've ever attempted anywhere. I'll spare you the details, but know that it was really a pita (and that ain't no pocket bread!).
Just as a side note, while researching a CC for this upload, I learned that the Flamin' Groovies also played on the first night. I've never seen that portion of the show torrented (but keep in mind I'm a newbie to trading/torrenting), and virtually never even referred to. Perhaps it was commercially released.
First Disclaimer: Regarding the source/lineage, the only information I have is was what is on the artwork. In fact, that has been the case for several of my other FWC uploads. However, in this case, the information is particularly difficult (for me) to discern. I asked my wife, who has younger eyes than mine, to review it and she concurs with my conclusion.
Second IMPORTANT disclaimer (this from db.etree): "hi all, much to everyone's dismay, upon close comparison, the santana fillmore west 7/4/71 closing turns out to be a mix of shows. a portion is from the closing show and a lot of it is filled in from a winterland 69 fm show that circulated for a long time. santana was the only band that week in 71 that would not allow their set to be aired live. 2 songs were later released on the live lp and about another 30 min was broadcast in pieces later. they had no problem with the closing jam being aired since none of their material was performed. upon close listening, the mix and quality changes sometimes from song to song and the 2nd guitar of neal schon is only present on the real 71 tracks. some of the songs included on this set were actually dropped from the set list by this time. compare to other 71 shows and you'll see what i mean. also, mother's daughter isn't really on this cd copy going around. i'm sure this will start some debate. this kind of thing always does. dave t." So, the upshot of this is that the quality is not as good as my other uploads in this series. Sigh...