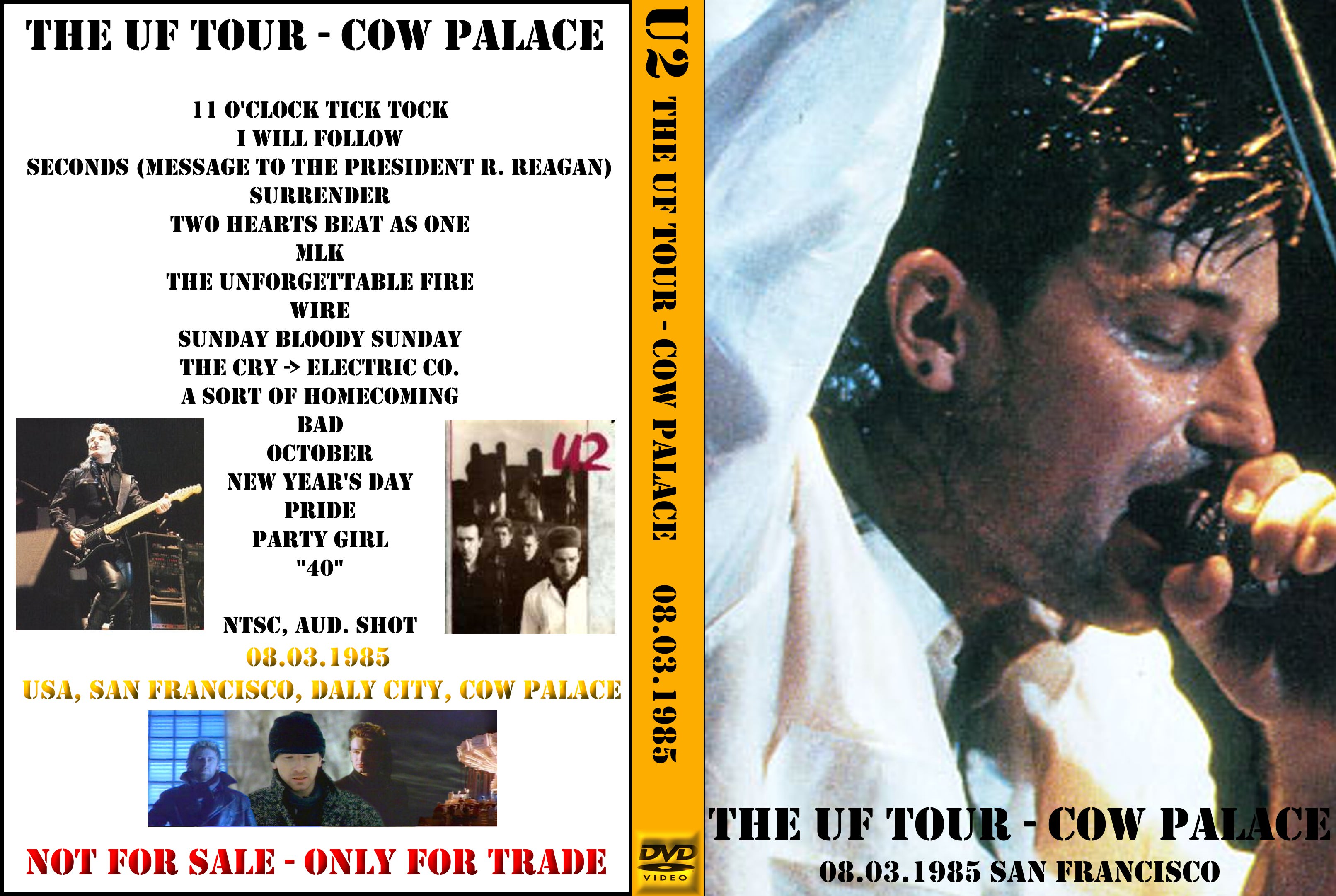 (DVDfull aud-shot)
The Cow Palace
Daly City
Lineage:
2 Nakamichi 300 mics-Camera not noted > Panasonic PV9600 HiFi VHS video recorder (hifi audio)
Transfer:
Sony SLV-R1000 > Sony DVMC-DA2 Media Converter > Apple Macintosh Final Cut Pro (minor "nip and tuck" edits and chaptering) > Compressor (down-sampling) > DVD Studio Pro (menu/authoring) > VIDEO_TS file set > Roxio Toast ("fit to DVD video compression" option with 2 percent data size reduction).
Video:
NTSC 720x480 VBR 7.7 Mbps peak, 6.2 Mbps average data rate, 2-pass.
Audio:
Dolby Digital 2/0 (L,R), 48 kHz sample rate, 256 kbps data rate.
audience DVD video from VHS HiFi master.
01. 11 O'Clock Tick Tock
02. I Will Follow
03. Seconds
04. Surrender (with In the Midnight Hour snippet)
05. Two Hearts Beat As One
06. MLK
07. The Unforgettable Fire
08. Wire
09. Sunday Bloody Sunday
10. The Cry/The Electric Co.
11. A Sort Of Homecoming
12. Bad (with Norwegian Wood & I'm Waiting for the Man snippets)
13. October
14. New Year's Day
15. Pride (In The Name Of Love)
encores:
17. Party Girl
18. 40 (with Do They Know it's Christmas snippet)
19. Thanks, crowd & taper outro