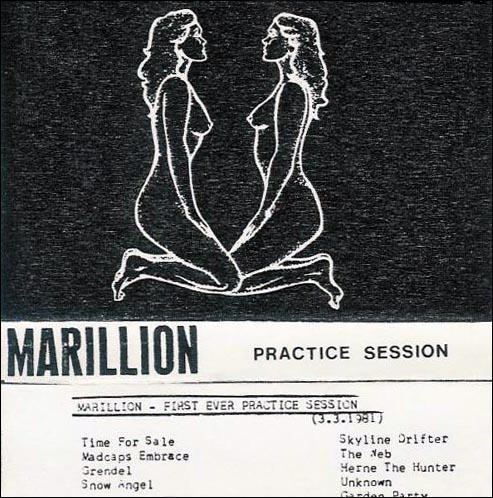 (Studio FLAC)
Disc 1 - 52:19
01. Time For Sale
02. Madcap's Embrace
03. Grendel
04. Snow Angel
05. Skyline Drifter
Disc 2
01. The Web
02. Herne the Hunter
03. Garden Party
Remastering Details:
I applied just a light amount of hiss reduction, as the hiss was fairly distracting.
I suspect this was recorded from vinyl. You could hear the stylus set down on the record at 41:51 mark, before I cut the gap out, anyway.
There were Fairly frequent clicks and pops in the left channel (one or 2 a minute), some quite loud. I removed all those I heard. It semms fine now.
Fish seems to be amused at the first section of Grendel, as he can be heard chuckling during a few parts, at least to my ear.
Snow Angel seems a precursor of Forgotten Sons. The last half of song sounds very similar to parts of Forgotten Sons.
March 3, 1981 is the generally accepted date for this recording. According to the bit taken from "The Web" cited below, if they practiced for 10 weeks prior to performing their first gig on March 14, 1981, then it would stand to reason that this is not actually Fish's first practice session, which is how this recording is commonly traded.
"The Web" - Issue 1 - February 1982:
Diz Minnit (Bass) and Fish (Vocals) answered an ad in "Musicians Only" and moved down to Aylesbury on the 2nd January, 1981. The new line up rehearsed at the Leyland Farm Studios in Bucks for 10 weeks and played their first set at the "Red Lion", Bicester on the 14th March. 65 people turned up!