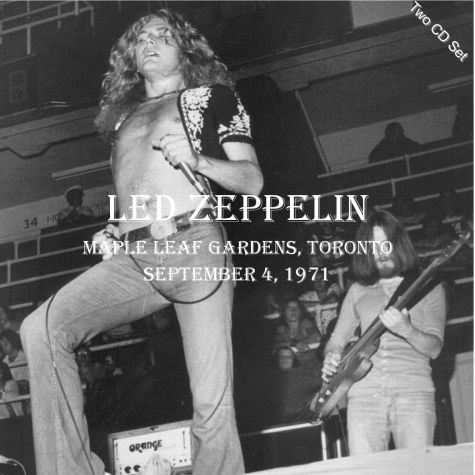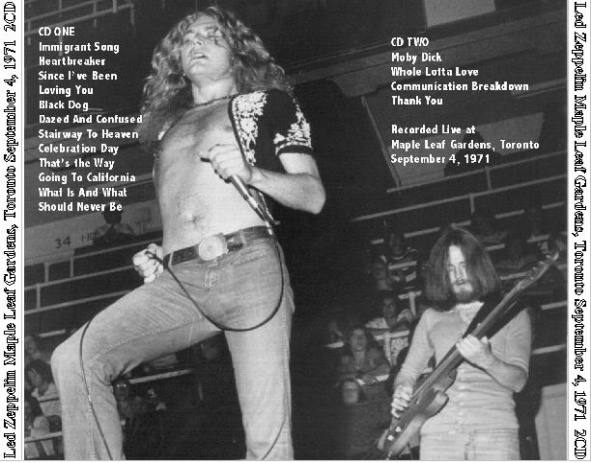 (Audience FLAC)
Venue: Maple Leaf Garden
Lineage:
2nd gen>cdr(2)>eac>wav>flac
Disc 1
01. Immigrant Song
02. Heartbreaker
03. Since I've Been Loving You
04. Black Dog
05. Dazed And Confused
06. Stairway To Heaven
07. Celebration Day
08. That's The Way
09. Going To California
Disc 2
01. What Is And What Should Never Be
02. Moby Dick
03. Whole Lotta Love
04. Communication Breakdown
05. Organ Solo(Fragment)/Thank You
Notes:
This source in general seems to be superior in comparision to Live In The Midnight Sun (TDOLZ) and Maple Leaf(Babyface) for the following aspects.
First it hasn't been eq'd to death usually the bootleg titles just amplify the hell out of the volume it brings out other unpleasant noises hidden on in the upper frequencies which is the case with TDOLZ release.
Second this seems to run at the correct speed and pitch whereas TDOLZ and Babyface seem to run a hair fast.
Third this contains the organ solo fragment before Thank You that is missing from all other releases as far as i know.